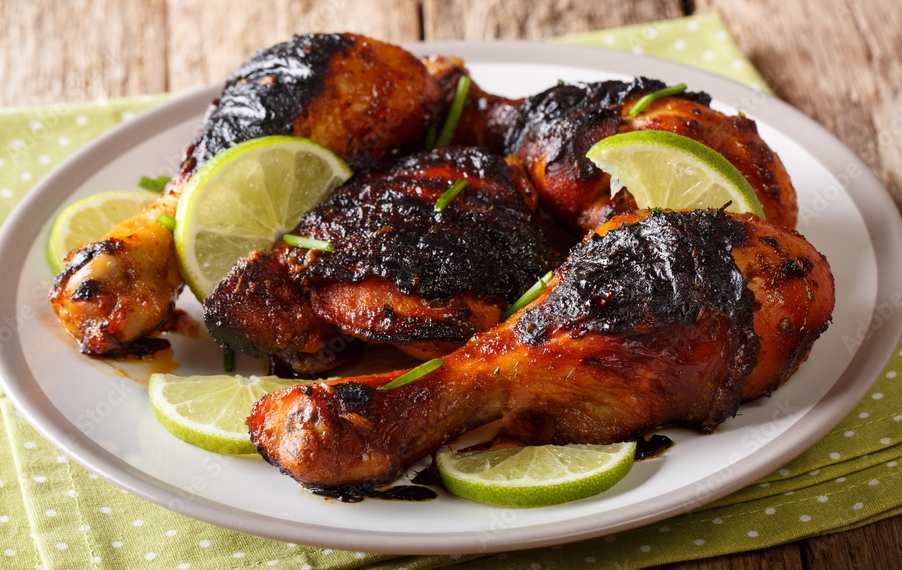 Ingredients
Marinade:
1/4 cup lime juice

1/3 cup low sodium soy sauce

1 Tbsp. extra virgin olive oil

3 garlic cloves, minced

1 tsp. ground ginger

4 green onions, thinly sliced

1 tsp. ground allspice

1/2 tsp. cinnamon

1/4 tsp. ground nutmeg

Pepper to taste
Chicken:
1 1/2 lbs. bone-in chicken drumsticks & thighs

Lime wedges for garnish
Directions
For the marinade, combine all ingredients in a large bowl and whisk together until combined (could also use a blender). Add chicken and toss to coat. Marinate in the refrigerator for at least 30 minutes (or overnight for best results).
Preheat oven to 350°F.
Bake chicken until fully cooked, approximately 45-60 minutes.
Broil for 5-7 minutes, or until chicken is lightly charred.
Remove from oven and allow chicken to rest for 10 minutes.
Serve with lime wedges.
GRILL OPTION: Grill chicken on high until charred and cooked through, approximately 20 to 25 minutes. Serve with lime slices, green onions, and a side of low carb Jamaican cabbage. Enjoy!
Ingredients
Frozen pink shrimp
1-2 tbs coconut oil
Avocado oil
1 bag frozen or fresh riced cauliflower
2 eggs
2 shallots
1/2 red pepper, thinly sliced
1 large carrot, finely diced
6-8 asparagus cut into quarters
1/2 cup chopped shiitake mushrooms
1 inch x 1/2 inch cube fresh ginger
2 garlic cloves
3 tbs coconut aminos or gluten free soy sauce
2 limes
1/4 cup fresh cilantro + more for garnish
1/2 tsp cayenne
1/2 tsp salt
Sweet chili sauce (I use Trader Joe's)
Instructions
Fill a pot with about an inch of water and place your steamer basket in the pot. Add riced cauliflower, cover, and let steam. Wait as long as possible before stirring to prevent steam from escaping. The cauliflower will be ready once it is soft!
In the meantime, chop all the veggies.
In a large saucepan add coconut oil and turn the stove on medium heat. Add shrimp and cook until pink, around 5-6 minutes. Remove from pan.
Add all veggies and avocado oil to saucepan on medium-high heat. Cover for 3 minutes then cook uncovered. Once they begin to soften, add salt, cayenne, and coconut aminos. Add in minced garlic and grated fresh ginger.
Once veggies are cooked, turn the heat down to medium and stir in the cooked cauliflower rice, cilantro, and shrimp. Squeeze 1/2 of a lime and stir again.
Finally, make room in the center of the pan and crack 2 eggs. Let them cook and begin to scramble, then mix into the cauliflower rice to finish cooking.
Serve with more cilantro and sweet chili sauce and enjoy!