Cranberry White Chocolate Macadamia Nut Cookies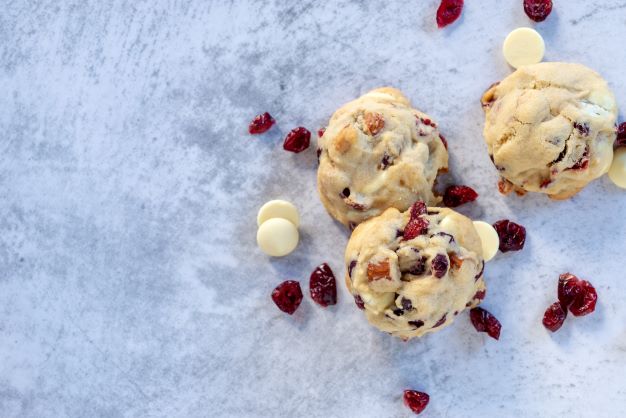 Cranberry White Chocolate Macadamia Nut Cookies
Ingredients
1 ¼ cup almond flour
½ tsp baking soda
½ tsp salt
½ tsp baking powder
1 tsp xanthan gum (Optional)
½ cup (1 stick) unsalted butter or coconut oil
1 large egg
1 tsp vanilla extract
¾ cup of brown sugar replacement (Ex: golden monk fruit)
½ cup Lily's Stevia sweetened white chocolate chips
¼ cup chopped macadamia nuts (1 oz)
¼ cup dried cranberries, chopped (1 oz)
Serves 18
Calories 128| Carbohydrates 6g | Fat 10g | Protein 2g
Instructions
Preheat the oven to 350 degrees.
In a small bowl combine almond flour, baking soda, baking powder, and xanthan gum (if using). Set aside.
Cream the butter, monk fruit, and vanilla extract using a stand mixer. Add the egg, beating the mixture on low.
Slowly add the almond flour mixture while mixing on  low speed.
Fold in the Lily's white chocolate chips, nuts and cranberries.
Chill the dough for 30 minutes
Using a spoon, drop dough (1  inch balls) onto a baking sheet lined with parchment paper. Repeat with the remaining dough.
Bake for 7-9 minutes. Let the cookies cool on the baking sheet for 10 minutes before transferring to a wired rack.
*Recipe adapted from www.maebells.com