Flourless Peanut Butter Oatmeal Chocolate Chip Cookies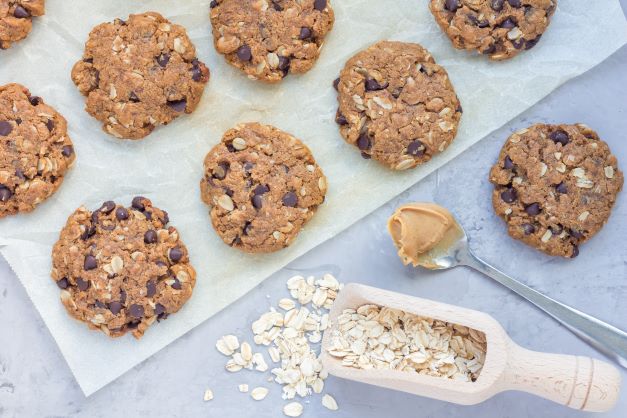 Flourless Peanut Butter Oatmeal Chocolate Chip Cookies
Ingredients
1 cup natural creamy peanut butter
¾ cup rolled oats
½ tsp baking soda
2 large eggs
1 tsp vanilla extract
¾ cup of brown sugar replacement (Ex: Swerve)
⅔ cup Lily's Stevia sweetened chocolate chips
Flaky sea salt for sprinkling on top
Serves 18
Calories 111| Carbohydrates 12g | Fat 8g | Protein 4g
Instructions
Preheat the oven to 350 degrees.
In a small bowl combine the oats and baking soda. Set aside.
In a large bowl mix together peanut butter, Swerve, eggs, and vanilla until smooth.
Mix in dry ingredients with a wooden spoon, then fold in the chocolate chips. Chill the dough for 30 minutes.
Roll the dough into 2-inch balls and place 2 inches apart on the prepared baking sheet. Slightly flatten the top of the cookie.
Bake for 9-11 minutes. The cookies may look undercooked, but will continue to cook on the warm baking sheet when out of  oven. Let the cookies cool on the baking sheet for 5 minutes.
Sprinkle each cookie with the sea salt. Repeat baking with the remaining dough.
*Recipe adapted from www.ambitiouskitchen.com