Ultimate Healthy Snickerdoodles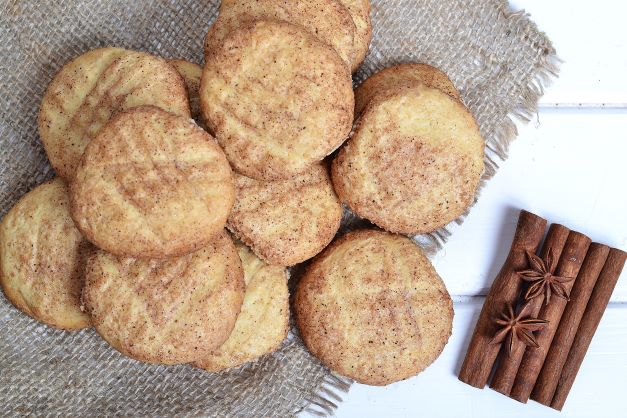 Ultimate Healthy Snickerdoodles
Ingredients
1 cup almond flour
¾ tsp cream of tartar
½ tsp baking soda
½ tsp ground cinnamon
1/8 tsp salt
2 Tbsp. unsalted butter or coconut oil
1 large egg, room temperature
2 tsp vanilla extract
½ cup of brown sugar replacement (Ex: Swerve) for coating.
¼ cup brown Swerve
1 Tbsp. ground cinnamon
Serves 12
Calories 79 | Carbohydrates 3g | Fat 7g | Protein 2.5g
Instructions
Preheat the oven to 350 degrees. Line a baking sheet with parchment paper.
To prepare the cookies, sift together the flour, cream of tartar, baking soda, cinnamon, and salt in a medium bowl.
In a separate bowl, whisk together the butter, egg, and vanilla. Stir in the Swerve brown sugar replacement. Add in the flour mixture, stirring until incorporated.
Chill the dough for 30 minutes
To prepare the coating, mix the Swerve and the cinnamon in a small bowl until completely combined and no lumps remain.
Using a spoon, drop a small amount of the cookie dough into the coating. Carefully rock the cookie dough back and forth in the coating. Once the dough is fully coated, roll the cookie dough into a ball, and place it on the prepared baking sheet.
Repeat with the remaining dough.
Bake for 9-11 minutes. Let the cookies cool on the warm baking sheet for 10 minutes before transferring to a wired rack.
*Recipe adapted from amyshealthybaking.com